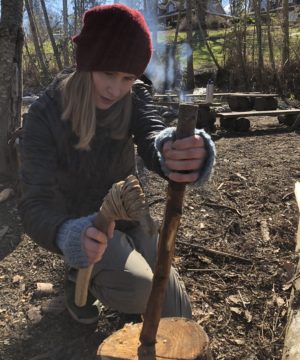 Have you ever wondered how Homo Erectus prepared their food, or what it would be like to use the toolkit of a Neanderthal? All cultures have their roots in the stone age and developed from gatherer/hunter societies. In most classes we uses steel knives and axes to accomplish our goals, but in this class we will rely on stone, bone, and wood. Many primitive skills students and enthusiasts never master stone tool manufacture, as it takes a considerable amount of time to do so. However, this course provides the tools and the  guidance to use them. We will make fire, food, tools, and art using different methods from all over the world and across time. This is a unique opportunity to step into the past and learn from our predecessors.
This camp is designed for students age 10 and above.  In order to participate, students must have previously attended either a Primitive Skills camp or a season of OWLE/Ancestral Skills.  Qualifying experiences from organizations other than Quiet Heart will be evaluated by the Quiet Heart staff.
Sessions are Monday thru Friday, 9:00am- 3:00pm and are located in Edmonds. Tuition for this camp is $285 per week. Please click on the links below to register.
Session 1: August 5-9, 2019
Session 2: August 19-23, 2019