"My daughter LOVES OWLE! Thanks for being such amazing guides" – Melissa
"You have changed my life and my son's.  Getting him into the outdoors with you has had a huge impact on who he is becoming.  It is so clear to me that this is feeding his soul.  Thanks again." - Paula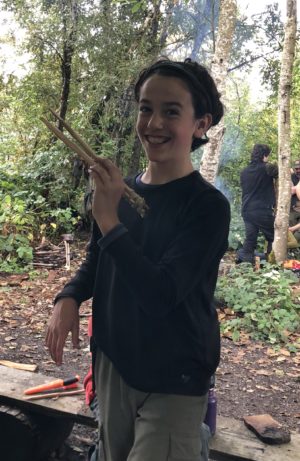 OWLE is our day long Friday or Saturday program.  Students spend each day, sharing responsibilities as a tribe and practicing skills that our ancient ancestors once knew. Each week, the students are presented with a project such as how to build emergency shelters, carve tools from wood, collect pitch from conifers for glue, how to make a fire pit, build and maintain a fire. (Projects vary by season.) Each day at lunch, students are able to cook food over a fire they built together.   OWLE is a student-centered program, with each child working at their own level.  We have opportunities for students to work both as a group in games and projects and on individual goals.
This unique program is offered on two different days at two different locations.  Friday OWLE is held at Three Eagles Camp in the Woodinville area, while the Saturday program is held at Coyote Camp in Edmonds.
Winter 2019
Dates: Jan. 11- Feb. 15 (Friday Program); Jan. 12 - Feb. 16 (Saturday Program)
Time: 10-4
Tuition: $300 for the full fall season
Winter Registration is now closed.  Please e-mail info@quietheart.org for more information.
Spring 2019
Dates: March 1 to June 7 (Friday Program); March 9 to June 1 (Saturday Program, every other week only)
Time: 10-4
Tuition: $630 for the full fall season, $460 for every other week
For the Spring season, the Saturday Program will be offered every other week only.
Register for Spring Friday OWLE                 Register for Spring Saturday OWLE