2018-2019 DATES COMING SOON!
OWLE (Outdoor Wilderness Living Experience)
"I love Wilderness School! It is a great way to learn what the Indians did and it helps me learn about ways to survive in the wilderness alone." - Brian, Owle student
"My daughter LOVES OWLE! Thanks for being such amazing guides" – Melissa
"You have changed my life and my son's.  Getting him into the outdoors with you has had a huge impact on who he is becoming.  It is so clear to me that this is feeding his soul.  Thanks again." - Paula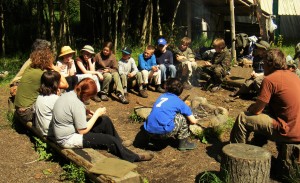 Owle is our day long Friday or Saturday program.  Students spend each day, sharing responsibilities as a tribe and practicing skills that all our ancient ancestors once knew. We play together, learn together and do chores together. We learn how to build emergency shelters, make primitive arrows, collect pitch from conifers for glue, how to make a fire pit, build and maintain a fire. Then there is lunch, learning to cook over a fire, that's another new experience. What fun!
This unique program is offered on two different days at two different locations, the choice is yours.  The Fall program begins September 22nd and 23rd, 2017 and ends on December 15th and 16th, 2017. The winter program begins January 12th and 13th, 2018 and ends on February 16th and 17th, 2018. The spring program starts up again on March 2nd and 3rd, 2018 and ends on June 8th and 9th, 2018. Friday Owle is held in Woodinville area, while the Saturday program is held at "Coyote Camp" in Edmonds. Hours are 10 am until 4 pm. Ages 8–13.  Tuition is $632 for the full season or $460 for the every other week option.
ANCESTRAL SKILLS PROGRAM
"Just wanted to say a quick thank you for the wonderful experience our son had earlier today with you.  He clearly had a magical, special day that he will hold dear forever.  I appreciate all the work you guys put into your time with the kids.  Thanks again."           - Alison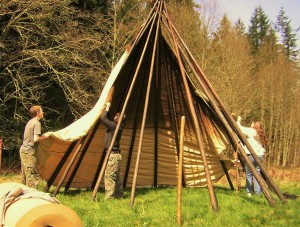 This is the most advanced and challenging program that we now offer. Students will be trained in awareness, tracking, primitive and survival skills, shelter construction and acquiring food through team work in a small and intimate community. Registering students must be at least 13 years of age and possess some outdoor experience.
Ancestral Skills students may choose one of these 3 options:
1. DISCOVERY: The teen group will participate in five Saturday outings per season plus a spring overnight. Students develop skills in building community and social relationships in the outdoors. $320 for the fall season and $348 for spring. See calendar below.
2. IMMERSION: The ultimate challenge of skills and survival training that we have ever developed. Immersion students will have the opportunity to meet on 3 Fridays or Saturdays per month at the OWLE campsite to work with their own instructor on appropriately challenging projects. $520 per season or make your own schedule at $70 per day. Hours are 10-4.
3. FIRE CIRCLE: A combination of the Discovery and Immersion programs. Fire Circle students receive unlimited attendance to the Friday or Saturday Immersion Program meetings plus the Discovery Program outings (including the spring overnight). $685 per season.
Ancestral Skills Discovery Program dates: 9/23/17 (Lord's Hill park); 10/21/17  (St. Edwards Park; 11/18/17 (Bob Heirman Refuge); 12/16/17 (Burke Museum); 2/17/18 (Carkeek Park); 3/17/18 (Paradise Valley); 4/21/18 (Cougar Mtn); 5/19/18 (Meadowdale Park); 6/16-17/18 (Alderleaf campus)
PATHFINDERS
"Our youngest son is so looking forward to joining Pathfinders with his brother, and to learn about nature from your wonderful staff. We are thrilled too, that our boys have such an amazing opportunity (I wish we had such an opportunity when we were young)." – Mother of four boys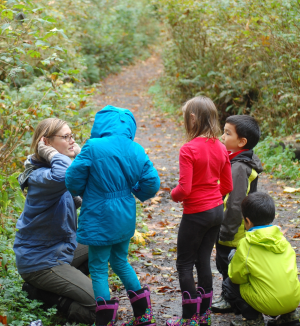 Wandering, exploring and discovering.  Seeing and becoming aware.  Students will be learning about nature and our connection to it while playing in the woods.  This is what the PathFinders program is all about.
This program is designed for students ages 5 to 7.  Guided by our experienced naturalists, PathFinders students will be acquiring the basic skills, knowledge and experience to allow them to be comfortable in the outdoors in any weather.
We offer 2 sessions of the Pathfinders course - fall through winter and spring. Each season includes 7 Saturday outings at St. Edwards State Park in Kenmore, from 10am - 2pm. The fall season begins September 30th and spring season begins March 10th. Tuition is $315 per season for all 7 outings or $560 for the entire year. Individual outings may be attended for $65 each. advance registration and scheduling is required.
Fall/Winter dates 2017-2018 = 9/30, 10/14, 10/28, 11/11, 12/9, 1/20, 2/10
Spring dates 2018 = 3/10, 3/31, 4/21, 5/5, 5/19, 6/2, 6/16
"Through the Eyes of a Naturalist" PRESCHOOL PROGRAM
"Hawkeye and Quiet Heart are an integral part of our curriculum. Enhancing our student's education and lives." - Kait, Olympic View Montessori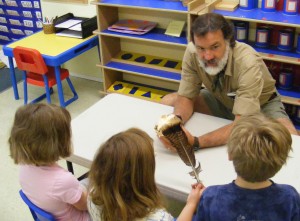 Our preschool curriculum designed for 3- to 5-year-olds was created to follow the seasons and the calendar with a child's curiosity toward learning. Added to your preschooler's existing school program, we will come into their classroom and open their eyes and minds to the view of a naturalist. Standard program involves two 45 minute visits per month. Fee is $85 per visit. We can also conduct and lead special fieldtrips for your child's preschool.
2018 SUMMER CAMP REGISTRATION OPENS ON JANUARY 15
*Current Status of each summer camp is posted on our home page - check there to see current camp availability
MUD PUPPIES - at Bothell Family Cooperative Preschool
A new Day Camp for 3-5 year olds!
Quiet Heart and Bothell Family Cooperative Preschool proudly announce the first summer
of the Mud Puppies summer day camp to be held at 17836 92 nd Ave NE, Bothell.
*BFCP members will have priority when enrolling for this camp - non-members can request a space and will then be put on a waiting list for spots available to non-co-op members. 
Led by our outstanding instructor and herbalist Rachael Witt, children will have a day playing and learning outside in an environment where they feel comfortable and safe.
All students should dress for the weather, bring a small backpack with snacks, lunch and water. We will be outside, rain or shine and we will be getting dirty and possibly muddy.
*Three year olds must have turned three prior to September 1 st , 2017 and be potty-trained
Camp schedule options:
2 Day Camp Dates: - June 5th & 7th or June 12th & 14th Tuition: $85
3 Day Camp Dates – June 4th , 6th & 8th or June 11th , 13th & 15th Tuition: $115
5 Day Camp Dates – June 4th thru 8th or June 11th thru 15th Tuition: $175
10% Sibling Discount is available
Camp hours are 9:30 am to 1:00 pm.
FAIRIES, FORTS & MAGIC STONES - Exploring the Magic of the Forest
Come spend the week or your choice of days exploring the mysteries of the Yost Park woods. We will be building fairy houses, observation forts, learning about the stone people, Grandfather Maple and looking for Trolls under the bridge.
9:00-3:00; Ages 7-13; Tuition is $225 for the week or $60 per day. Due to snow day schedules, enrollment can be done either by the week or by the day.
*2018 Session: June 25 - 29
SUMMER IN THE WOODS
"Summer in the Woods" is an outdoors, in the woods, full day summer of fun. A truly unique summer experience! Students will participate in hands-on naturalist activities, wilderness games, crafts, native storytelling and much more, while the whole time being outside getting fresh air and exercise.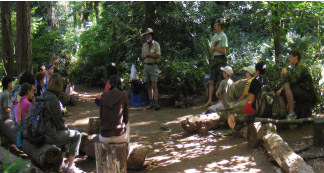 Come join us for another wonderful summer at beautiful Yost Park in Edmonds.
Monday thru Friday 9 am to 3 pm; Ages 7 to 13; A 2-week session is only $405.00.     (10% Discount for siblings.)
*2018 Sessions:
#1 July 2-13
#2 July 16-27
#3 July 30-Aug 10
#4 Aug 13-24

FOREST CAMP
"Forest Camp" is our one week outdoors, in the woods, full day summer of fun. A truly unique summer experience! Students will participate in hands-on naturalist activities, wilderness games, crafts, native storytelling and much more, while the whole time being outside getting fresh air and exercise.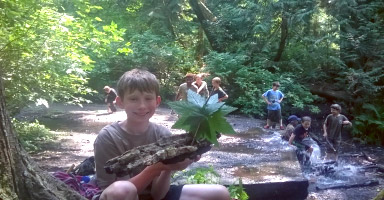 Come join us for another wonderful summer at beautiful Yost Park in Edmonds.
Monday thru Friday. 8:30 am to 3:30 pm. Ages 7 to 13.
This 1-week session is only $245.00. 10% Discount for siblings.
*2018 Sessions:
#1 July 2-6
#2 July 9-13
#3 July 16-20
#4 July 23-27
LITTLE CHIPMUNKS CAMP
Join us to play in the Lynnwood woods this summer! Open to students ages 4 to 6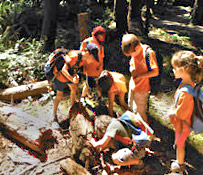 Monday, Wednesday & Friday, 10:00 a.m. to 1:00 p.m. Tuition is only $115.00 per session
Join us for one or ALL sessions!
*2018 Sessions:
#1 July 9, 11 & 13
#2 July 16, 18 & 20
#3 July 23, 25 & 27
#4 July 30, Aug 1 & 3
PRIMITIVE SKILLS CAMP
Five very full days of learning some of the skills that our ancestors all knew in order to survive. Students will make & practice with their own bow-drill fire sets, make rawhide containers, primitive candles, burn out spoons, make dead fall traps and their own arrow. This will be a project-oriented week with lots of treasures coming home.

This camp is designed for students 8 to 13. Hours are 9:00am to 3:00pm.
Tuition for this busy week is $275
*2018 Sessions:
#1 July 30-Aug 3
#2 Aug 6-10  = FULL for summer 2018
#3 Aug 13-17 NEW
NINJA FOXES
Monday through Friday at Yost Park in Edmonds.
9:00-3:00 daily. Ages 7-13. $225 for the week.
*2018 Session: Aug 27-31
-NEW 2018 WORKSHOPS-
Feb. 24 - Ribbed Basket Making
The Lodge, Lynnwood; 9:00-3:00; $75; ages 10+
Feb. 25 - Emergency Preparedness
Edmonds Unitarian Universalist Congregation; 1:00-4:00; $35 individual or $55 for families; ages 10+; rsvp to emergencypreparedness.rsvp@euuc.org
April 7  - Roots to Branches, Wild Plant Medicinals
Lord Hill Regional Park, Monroe; 10:00 to 2:00; $40-$70; ages 8+
April 21 - Sparking a Fire & Saving your Life
Edmonds; 10:00 – 1:00; $40; parents come at no cost with the tuition of one student; ages 8+
May 5 - Wilderness Navigation
Lord Hill Regional Park, Monroe; 9:30 - 4:00; $45-$70; ages 10+
May 19 - Orienteering, Maps & Compass Training
Lynndale Park, Lynnwood; 9:00-1:00; $35-50; age 8+, under 10 with adult
June 2 - Knap In, Intro. To Flintknapping
The Lodge, Lynnwood; 10:00 to 3:00; $65; ages 8+
June 3 - Plant Identification 101 for Families
Meadowdale Park; 9:00-noon; $25 for an individual, $45 for families; ages 10+
July 14 - Antler Handle Knife
The Lodge, Lynnwood; $85 + price of blade; ages 8+; under 10 with an adult
Summer 2019 - Making a Hickory Longbow